Helmar Halloween Holwer Hop HUGS everyone!
I am thrilled to be a guest designer for the first ever Helmar Halloween Howler Hop (say that 4 times really fast (whilst eating some Brachs candy corn) and you'll be good to go for the rest of the week)! 
This past week at The Little Blue House, the ScrapStasher's project was iris folding!  I was completely smitten with the project and knew I would have to find a way to incorporate this utterly  neat paper folding technique into today's tutorial (and since I'm pretty good friends with Lolly, I made it happen)!!
Let's hop right into the propject shall we?!?!?!?!

I found these amazing black hollow glittered pumpkins at Michaels!
(they were on sale for $5.99 - and they had LOADS left...  so if you have a Michaels in your area head on over there and get one)!

I took a gigantor serrated knife and sliced that fella in half!
mmmm....  toasted Styrofoam pumpkin seeds...
sooo good.  sooo chewy.
(just fyi... slicing the pumpkin in half is easy....  it took almost no real muscles at all....  just craft muscles)
(which are almost like real muscles but so unlike real muscles that you can't really call them muscles)
hmmmmmm


(let's just pretend the whole "muscles" conversation never happened ok???)


I painted the edges with black paint...
Oh and I have just a teeny tiny little warning to share with you guys...

...if you get a pumpkin covered with glitter like this...
...brace yourselves...

.cause you'll have glitter in your house for the next 100 years.
...for reals...
(doesn't that sound like funsies?!?!?!)
I traced along the outside of the pumpkin onto a piece of black patterned paper.
(this paper is by Basic Grey and is older than me...  which is seriously OLD folks)
Old Folks Sidebar:  someone told me last week that 40 is the new 30!
(I'm gonna hang on to that one for the next decade and see how far that takes me)
(I should be 38 by then.... and then maybe 40 will be the new 20???)

(a girl can dream)

You cut out your traced shape... It should look rather pumpkinish...
(if it doesn't take off your glasses and you'll never know the difference)

...and then trace and cut out another pumpkin shape inside your main pumpkin...
Ink the inside and outside edges...
I used Distress Ink in Black Soot.

I found 4 different black patterned papers and cut them into 1 inch strips...
I only cut out 4 strips of each piece of paper!
Aren't you guys proud of me?!?!?!?!
(I wanted to cut out 600 strips but I was trying to be good)!

I scored them right smack dab down the middle...

I then folded each strip in half with the black side facing out...
If your paper crinkles a little and the white peeps through on the crease...
...just Ink the edges to cover it up!
Now it's time for the Iris Folding part of the project...
You can find a few free Iris Folding templates HERE...
...and a video on how to actually do it HERE...
.I know what you're thinking.
(she's sending us someplace else to learn how to do this...  for reals?!?!?!)
It's easy as pie but yet too complicated to show you in a photo tutorial!
...but it's easy...
(eat some pie and you'll see what I mean)
Trust Lolly!

You can adapt the basic square template from the free pattern above...  it's SUPER easy!
(don't forget the pie)

When I first tried this, I just free formed it without a pattern and some plain white paper!
You really don't need a pattern unless you are looking for a very specific color scheme..
Just play with some plain paper over an open space and you will soon get the hang of how this all works!

For the first layer of strips I used my Helmar adhesive roller!
(it's the stickiest roller out there...  hands down)!

For the second layer (and all layers after it)... I decided that I wanted some more depth...
...sooo...
I used black Zap Dots!

Just keep layering each strip with Zap Dots...

Keep on truckin...

It's lookin sooo pretty right???

Ahhh you're ALL done!
Now for the best part...
Flip that fella over to reveal...
I just love this!
There is so much texture and layers and depth!
(it's completely fabulous)!!!!

Nextly...  you have to glue your iris folded pumpkin shape to the pumpkin...
I used Helmar Premium Craft Glue and it worked like a CHAMP!

I made a little fence using the Martha Stewart Fence punch found HERE.
I also popped that puppy up using ZAP Dots!

I traced the outline of the pumpkin bottom and cut it out before I adhered it to the pumpkin front.
(and I painted the fence using more of that Black Soot Distress Ink)

I grabbed a few other goodies...
Super soft feltabulous alpha's from Prima found HERE
Martha Stewart tomb stones found HERE
Skeleton in cheesecloth (Michaels)
Misc black gems (found in the dollar bin)

I just combined everything into a little scene...
...and POOF!  Easy as pie!

I love how 3 dimensional this little project is!

I think the skeleton is beckoning you closer so he can give you some friendly hugs...
Don't you think so too????

Here is a little peep iof the fabulous Helmar products I used today!
ZapDots
The Helmar Amazing Adhesive Runner (that's what I call it anyway)
Premium Craft Glue (super quick drying and super sticky)
(psst... all of these products are available at The Little Blue House HERE!)
That's all she wrote....!!!
I'm the last blog in the hop, so if you missed the other girls click on the arrow below to start from the very beginning!!!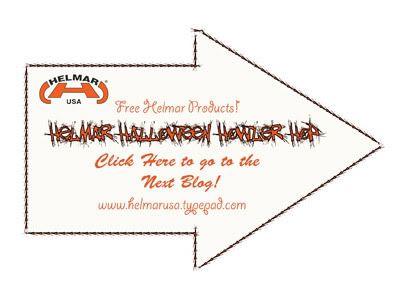 P.S.  Big thanks to the wonderful people of Helmar for inviting me to be a part of this hop OH and the winner of the Plaid goodies from last week is Nitasha (congrats!!!)!!!
P.S.S.T.  Make sure you leave a comment for a chance to win some fabulous Helmar goodies!!!